Jim Clough's story

Synopsis

Increasing PSA (1.8 in March 2001, 5.4 in Dec 2005); biopsy positive (Gleason 4+4); radical prostatectomy March 2006; recovery smooth; post operation pathology report indicating some cancer outside the prostate capsule but report not provided to patient or GP; post-operation PSA undetectable April 2008 but increasing later to 0.9; had hormone therapy then external beam radiation ending in June 2009; PSA now less than 0.04.


Moral of the story


Monitor PSA (total and free) regularly; early biopsy is a good thing; radical surgery can be the right thing to do; get hold of your post-treatment pathology report; hormone therapy plus radiation therapy appears to have been a successful adjunct to radical prostatectomy; future prospects looking good.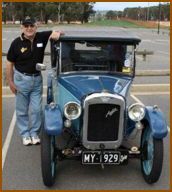 Full story
Since I was diagnosed with diabetes in 1994 I had been having three monthly blood sugar checks. My GP added PSA to my Pathology Request form about once a year. My records for PSA tests from March 2001 (1.8), October 2003 (2.3) and October 2004 (2.6) showed a gradual rise. A urinary tract ultrasound in March 2004 had revealed mild prostatic enlargement - not in itself indicative of prostate cancer. However, by December 2005 the PSA had risen to 5.4 (more than doubling in a year). Free PSA was 6%.

My GP responded to my suggestion that it probably only needed monitoring by saying that was not appropriate and immediately phoning a local urologist who agreed to see me the next day. I was probably the last patient he saw before his Christmas break and he arranged for me to visit again and have a biopsy in the new year. I took advantage of the time before the biopsy to do considerable research, mainly on the internet, about prostate cancer. I had all the usual non-invasive tests and a biopsy (Gleason score 8) prior to a decision on treatment. It appeared that the cancer was confined to the prostate.

I opted for an open radical prostatectomy locally and this was carried out in March 2006. At the time of the operation I was 73 and almost 12 years of diabetes had rendered me impotent, so nerve sparing surgery was not an issue. The operation went smoothly, tests revealed that there was no cancer in the lymph nodes and the surgeon/urologist was confident that all of the cancer had been removed, however the surgeon did not provide my GP with any report about my operation or a copy of the post operation pathology report.

Recovery was relatively smooth although the urinary catheter refused to come out at the initial attempt, but after two days in which there was a great deal of very painful poking and prodding and an ultrasound to try and ascertain what was happening, it emerged quite painlessly.

Continence was regained quite quickly and a series of PSA tests up until April 2008 revealed that it was undetectable (<0.04). However, a test in August 2008 revealed a score of 0.06, very low, but indicating that there was still some cancerous tissue somewhere in the system. Another test later in 2008 revealed a score of 0.09.

This further evidence of rising PSA caused some concern and led to a review of the post operation pathology report. This revealed that cancer had been widespread throughout the prostate, confirmed the 4+4 Gleason score, and that the lymph nodes, the apical and bladder base surgical margins, the seminal vesicles and the attached fat were all free of malignancy. However, it noted that there had been focal capsule penetration into perineural invasion outside the capsule, a fact not previously advised to me or to my GP by the urologist. No treatment had been recommended at the time when the urologist had access to this information.

My GP referred me to a different urologist and to a radiation oncologist. This urologist advised that it had been recommended practice in 2006 not to provide additional treatment if there was evidence of minor leakage of cancer following a prostatectomy, but that it was, in his opinion, appropriate to advise the patient and his GP of such leakage. Since that time research has shown clear benefits from treatment immediately following surgery if there is any escape of cancer from the prostate gland, and more and more urologists are recommending this as routine after all prostatectomies.

The radiation oncologist recommended a six month course of hormone therapy to be followed by 33 doses of external beam radiation. These treatment were completed by the end of June, 2009. I suffered
no immediate side effects of any significance. Several PSA tests since then have all produced results of less than 0.04.

In July 2011 I began to suffer significant rectal bleeding. Following a colonoscopy I was diagnosed with radiation proctitis. I have subsequently been treated twice with an argon laser to cauterise the blood vessels causing the bleeding. Further treatment will be required.


Jim Clough
8 May 2012

**RETURN TO TOP**