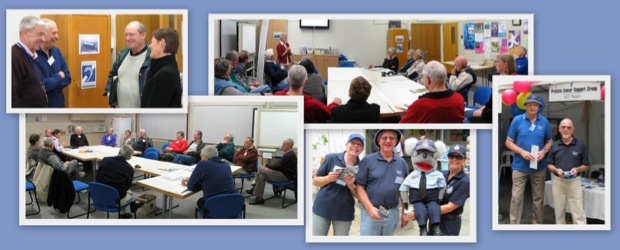 Who we are
Our group is a friendly, voluntary association of men who have been diagnosed as having prostate cancer, and their partners. Such men have either undertaken treatment for prostate cancer, or are evaluating the various treatment options. We are not funded by any governmental or private body. Our activities are undertaken by members who contribute their time voluntarily. Expenditure made by the group is sourced through donations and fund-raising activities. There is no membership fee.


Role of the group
Our role is to:

provide information, support and assistance to men who have been diagnosed with prostate cancer and/or been treated for prostate cancer, and their partners

provide information to anyone who has an interest in or concern about prostate health, including people who have not yet been diagnosed as having prostate cancer, particularly those who have a higher than normal risk of prostate cancer because of their age, ethnicity or family history)

promote awareness within the broader community of the incidence of prostate cancer and the importance and benefits of early detection

provide assistance to the Prostate Cancer Foundation of Australia (PCFA)

provide information resources that can be accessed by anyone who has a need for information about prostate health, diagnosis and treatment options
When a man has indications of prostate cancer it usually comes as a nasty shock to him, his family and friends. When making decisions about diagnosis, treatment options and rehabilitation there are benefits from discussing things with people who have undergone those processes.

While members of the group
do not provide medical advice
they can help the newly diagnosed man, his partner and those concerned about his welfare to understand the options available, and how these options can be accessed. They can also provide views on what may lie ahead after treatment has been undertaken.

Views and information from our members can be obtained through attendance at one of our regular monthly meetings or by contacting individual members. If you have immediate concerns about prostate health or problems and would like to discuss them now, don't wait for a monthly meeting - contact us by phone or email - details are on
this page
.


The good news

The good news is that there is strong evidence that in many cases treatment of prostate cancer can result in long term remission or cure. This is especially so if prostate cancer has been detected at an early stage. Early detection is the key to enabling a completely effective treatment with least possible side effects. However, even if not detected early in its development, there are treatments which can control many of the associated symptoms and problems, enabling an enjoyable and useful life for many years. More about these 'good news' messages is
here
.


Regular monthly meetings

Informal
monthly meetings
are held in the evening on the 3rd Wednesday of each month except in December. At these meetings a wide range of topics are discussed in an informal, friendly atmosphere. Those present include men who have undergone the most common treatments for prostate cancer, and their partners. They are willing to discuss their experiences and views with you and to offer support during the diagnostic, treatment and rehabilitation phases. At most meetings there is a
presentation
from a person who has expertise in some particular matter of interest.


We also welcome attendance from people who have not been diagnosed as having prostate cancer. That includes, for instance:

men who have not yet been diagnosed as having prostate cancer and their partner/carer

men or women who simply want to learn more about prostate cancer or about our work

people who are health workers (doctors, nurses, health administrators, etc.) or work in a health-related area
At the end of each meeting, coffee, tea and cake are available, providing the opportunity to network with people who can provide information and views about matters of specific interest to you.


You do not need to be invited to attend - simply turn up at any meeting and you and your partner/carer will be made welcome.

Promoting the need for testing at an appropriate age
The group is very active within the ACT and surrounding region in promoting awareness about prostate cancer, its diagnosis and treatment. Most men are unaware of the incidence of prostate cancer: each year about 20,000 men are newly diagnosed as having prostate cancer and about 3,300 die of prostate cancer. Some Australian statistics about prostate cancer are provided on our
statistics page
.

Most people are unaware of the fact that prostate cancer usually develops without any noticeable symptoms. We believe that it is important that all men be aware of this and that on reaching an appropriate age they talk to their GP about monitoring their PSA (Prostate Specific Antigen) regularly. That approach increases the likelihood of early detection, with the important consequence of maximising the chances of a completely effective treatment. What comprises an appropriate age is defined in guidelines that have been
approved by the National Health and Medical Research Council. Those guidelines have been endorsed by the Prostate cancer Foundation of Australia (PCFA), the Cancer Council Australia and the Urological Society of Australia and New Zealand. The guidelines can be read or downloaded from this page of the PCFA web site:

http://tinyurl.com/yc4ryzwy
In particular men might note the contents of the document referred to as
An overview of the recommendations approved by the National Health and Medical Research Council
. On page 3 of the document the "take home message" concerning initial testing is this:
Men should be offered the opportunity to consider and discuss the benefits and harms of PSA testing before making the decision whether or not to be tested.

The harms of PSA testing may outweigh the benefits, particularly for men aged 70 and older.

Men at average risk of prostate cancer who decide to undergo regular testing should be offered PSA testing every 2 years from age 50 to 69.

Men with a family history of prostate cancer who decide to be tested should be offered PSA testing every 2 years from age 40/45 to 69, with the starting age depending on the strength of their family history.


Digital rectal examination is not recommended for asymptomatic men as a routine addition to PSA testing in the primary care setting, but remains an important part of specialist assessment.
Promoting awareness about prostate cancer


We are keen to give awareness presentations and to provide advice and support to clubs, organisations, workgroups, or associations in the ACT and in southern NSW. Our members frequently give presentations at meeting of seniors' groups of various types and to groups that have mature age men in their membership. From
this page
of our web site you can access more information about our awareness presentations.


We are happy to set up information stalls or marquees at community events and to organise speakers for discussions, meetings or other such events. See the
past events
page for a listing of some important events that we have been involved in, and the
planned events
page for a listing of scheduled future events (including guest speakers).


If you would like us to provide a presentation or to run an information stall at any event please contact us - see details on
this page
.


Providing information
While your GP and specialist would be your primary source of information about prostate cancer there are many supplementary sources of information about the diagnosis and treatment of prostate cancer and after-treatment care. This includes
publications
in print and audiovisual format and there are many
organisations, service agencies and friendly associations
that provide information, services and support.


The group maintains a library of selected publications that people can borrow (see
Our library
).

In
formation about the group's activities are published in our free newsletter
The Walnut
(see
Our newsletter
).

Links with other organisations

The group is affiliated with the
Prostate Cancer Foundation of Australia
being a member of its
Support Group
network..




Contact us
If you would like to get more information about the group please contact us - see details on
this page
. Atternatively, simply come along to a
monthly meeting
- all people are welcome to attend.


Disclaimer


On this web site is provided information about developments in the diagnosis and treatment of prostate cancer, books, documents, audiovisual products, presentations, research articles, sources of information, and other materials. However, the Group's Executive and web site manager do not have the medical expertise required to make an informed evaluation of conclusions and recommendations presented in such materials, and such conclusions and recommendations have not been verified through appropriately qualified medical professionals.

The information presented on this site must not be interpreted as being endorsed or recommended by the Group's Executive or web site manager. Any recommendations made in materials that are on the site or referred to may not be applicable in your particular case. Before implementing any recommendations made in the materials that are reported or referred to, it is essential that you obtain advice from appropriately qualified medical professionals.

The view of the Group's Executive is that no two prostate cancer cases are alike and that no single treatment option is better than any other in all cases. While the information on this site should be of interest, there is no substitute for getting informed medical advice from your own GP, specialists and other medical professionals.


***RETURN TO TOP***